Any Coffee lover who doesn't have a Melitta Ready Set Joe Single Cup Coffee Brewer is missing out. As long as you have hot water you can have a fast delicious cup of coffee in minutes. I don't always like to committ to a full pot of any one coffee and with this device I don't have to. Considering you can get one of these for about the price of a Latte, it's a an easy decision to have one in the cabinet.
I know a lot of coffee purest who swear by press pots, I love a good press pot too, but it's not the right solution for every coffee. The Melitta Ready Set Joe Single Cup Coffee Brewer is the best of both worlds. You get the convenience of a single cup with taste profile of a coffee pot, also clean up is easier than both.
If you get a chance you should also try Melitta's packaged coffees. They are extremely affordable and have a mild taste, suited to any coffee drinker. They also have some more of the popular flavored coffee selections.
Overall, the Melitta products are affordable and tailored to anyone from a coffee novice to a coffee expert.
Walmart has began a voluntary recall of 900,000 12 cup digital GE coffee makers, sold for $30 between March 2008 through January 2010, due to risk of overheating and fire.  To find out if your coffee maker has been affected by this recall check the  bottom of the base for model number 169164 or 169165.  If you have either of these models stop using the unit immediately and return it to a local Walmart for a full refund even if you purchased it online.
Wal-Mart received 83 reports of "overheating, smoking, melting, burning, and fire," according to the CPSC.  At least three reports state that people were burned on their hands and feet and others report that their countertops and cabinets had been burned.  There was one report of a major kitchen fire due to the coffee maker. 
Any questions you might have regarding the recall should be directed to  the recall hotline at (800) 925-6278 weekdays between 7 a.m. and 9 p.m. central time. To report a malfunction, contact the CPSC at (800) 638-2772
Black and Decker has issued a recall of approximately 9,800 coffee maker sold between April of 2008 to July of 2009 due to a burn hazard. The product in question is an 8 cup coffee maker with model number TCM1000IKT. If you suspect you have purchased this product, you should look on the bottom of your coffee maker and compare the model number.
If you have purchased this particular coffee maker, do not take any chances. Stop using it immediately. Although no injuries have been reported as of yet, it can be very dangerous as one of the coffee makers is reported to have overheated and melted, creating a potentially dangerous situation.
The coffee maker was sold at small retail stores as well as larger chains, including Wal-Mart. They sold for between $50 to $65. If you have purchased one, please contact the coffee maker's distributor, Applica Consumer Products, at (866) 699-4595 or www.acprecall.com . They will replace the coffee maker for free.
The Aerobie Aeropres is a single cut coffee & espresso maker. It
The coffee is micro-filtered. It so pure and particle-free that it can be stored for days as a concentrate. The concentrate can be drunk as espresso, mixed with milk for lattes, or diluted to make American coffee.  
Its easy to use and clean, which is a must!  It also makes your espresso and coffee taste great!  Also, you cannot beat the price. Total immersion of the grounds in the water results in rapid yet robust extraction of flavor and allows for a moderate temperature, which results in a smoother brew. The air pressure, created by the plunger, shortens filtering time to approximately 20 seconds. This avoids the bitter taste associated with the long process of traditional drip brewing. The air pressure squeezes the last goodness from the grounds, enriching the flavor of the coffee. Due to the lower temperature and shorter brewing time, the acid level of the coffee is much lower than traditional brewers. Aeropress released laboratory pH testing results which measured the brew's acid as less than one fifth that of regular drip brew. The low acid is confirmed by coffee drinkers of the product who confirmed that coffee  made with the Aeropress was much friendlier to their stomachs.
The Aeropress is slightly more time-consuming for the user than traditional french press or drip coffee makers.  It takes about the same amount of time as a standard espresso machine.
The Chicago Tribune has reported that Bunn-O-Matic,d Corp.  has recalled 35,600 of their Single-Cup Pod Brewers because there is a potential burn hazard associated with them.  Although the recall was voluntary, it was done after the US Consumer Products Safety Commission disclosed that they had received 10 reports of the coffee brewer coming open during the brewing process,resulting in one customer suffering minor burns. 
If you think you may be affected by this recall, please contact Bunn at 1 (800) 741-3405 or visit their website at www.bunn.com
http://www.chicagotribune.com/business/chi-biz-bunn-coffee-pod-recall-may21,0,3203525.story
Content of this entry has been moved to the header. Please view that information or visit another place on the coffee blog
Coffee Reviews
Coffee Makers
Coffee Shop
12.11.06-UPDATE: After further testing, I've come to the conclusion that I may need to toss my other coffee makers. Once you get the hang of the Aerobie, AeroPress Coffee Maker, you may never want to use anything else. The coffee is rich, smooth, bitter-free, and wonderful! It is all in what is right for you and after playing with it, testing different amounts of coffee, water levels, and how long I stir the water and grounds before I plunge it down, I've discovered that it really is the best and freshest cup.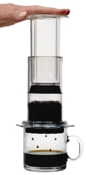 The AeroPress Coffee & Espresso Maker by Aerobie is not a french press! I want to say that it is in fact a single serve coffee maker but actually, I can make several cups with it. It will just depend on how much fine grind you use and how much water. You can make a single cup.
To be prepared to use the AeroPress Espresso Coffee Maker
The finer the grind (espresso would be best), the better you coffee is going to be. I tried a regular grind and the press did well, but it did so much better once I put espresso in it.

Using the press is as simple as can be. Your pot is your large mug. You can make enough coffee for that mug or fill it up and have enough for several cups. Everything else you need to make a fine cup is included in the kit. See image to the right. There is a plunger that you will use to press the air through the tube in able to force the water down. The water will be pushed through the filter and the grounds will remain in the tube. I've used the device several times now and have not once had any grounds in my cup.
To set it up, just place a filter in the bottom of the Aeropress then using the handy scoop included, place a scoop of coffee (one for one cup) in tube (or chamber). You can do this before or after placing it on top your coffee mug. Once you've done that, pour in the amount of hot water you wish to use. Use the stirrer that is included to mix the grounds and water. Stir that for about 10 to 20 seconds. Once you have that the way you feel you want it, place the plunger (or press) ontop the chamber and push. Be careful! Don't tip your mug over. You will find a lot of pressure present. You can elect to push the air through quickly or slower. The slower the better for a richer cup or espresso shot.
If you use one scoop and only want one cup of coffee, just add enough coffee and the amount of water needed to fill your mug. Otherwise, use more coffee and make as much espresso as you'd like. This press make a fabulous Americano. You will notice the lack of bitterness in this cup of coffee.
Cuisinart DGB-900BC Grind-and-Brew Thermal 12-Cup Automatic Coffeemaker, Brushed Chrome and Black
Most everyone is aware of the fact that in order to have the freshest, most aromatic coffee, one must have those oils present that you can only get from a fresh grind of coffee beans. Even a less expensive bean can taste better if that oil is present. Sure you can buy a pound of ground coffee and at first it smells really great and that first pot from it taste good too but not like that of fresh ground.
The Cuisinart Grind & Brew Thermal Coffeemaker can give you all that and more. The grinder is incorporated right into the coffeemaker. You'll find it in the back to the left of the maker. All you need to do is lift the lid and remove the plastic protecting lid and add the beans. It has a heavy stainless steel blade and it will grind the beans perfectly and automatically dispense them to the awaiting basket. The head that dispenses the water over the grounds is better than most you'll find. It covers the grounds evenly and that makes for a great cup. If you do not want to grind beans you can shut the grinder off and use pre-ground coffee. You'll find the disable button on the front control panel. A basket is included with your package that is gold in color. I like them because it allows all the oils from the bean to filter into the carafe. Yum yum! Note: you can use paper filters if you prefer.