Le Whif has introduced a new product on the market, a Coffee Inaler.  The device was developed by Harvard Professor of Biomedical Engineering, David Edwards and Thierry Max, a Persian Chef.  They have also developed a "breathable chocolate" as well.
The inhaler looks a lot like a lipstick container and it contains a powder inside that you breath in from the tube.  It will sell on the maret for three dollars each or eight dollars for a box of 3 inhalers.  Each inhaler delivers the equivalent of one shot of espresso in caffeine, 100 milligrams. 
Each inhaler can administer up to 9 hits of caffine, depending upon how ard they are inhaled.
Everyone loves a good coffee recipe.  I wanted to share this one with you.  Its really good.  This recipe makes one drink.  Very tasty!
Ingredients
1 fluid ounce Kahlua
1 fluid ounce vodka
1/2 fluid ounce fresh brewed espresso
Directions
Combine all ingredients into a cocktail shaker. Add ice and shake vigorously, strain into a chilled martini glass.
This drink contains about 160 calories.  You can also used chilled coffee or espresso if you prefer a cold Martini.
The Aerobie Aeropres is a single cut coffee & espresso maker. It
The coffee is micro-filtered. It so pure and particle-free that it can be stored for days as a concentrate. The concentrate can be drunk as espresso, mixed with milk for lattes, or diluted to make American coffee.  
Its easy to use and clean, which is a must!  It also makes your espresso and coffee taste great!  Also, you cannot beat the price. Total immersion of the grounds in the water results in rapid yet robust extraction of flavor and allows for a moderate temperature, which results in a smoother brew. The air pressure, created by the plunger, shortens filtering time to approximately 20 seconds. This avoids the bitter taste associated with the long process of traditional drip brewing. The air pressure squeezes the last goodness from the grounds, enriching the flavor of the coffee. Due to the lower temperature and shorter brewing time, the acid level of the coffee is much lower than traditional brewers. Aeropress released laboratory pH testing results which measured the brew's acid as less than one fifth that of regular drip brew. The low acid is confirmed by coffee drinkers of the product who confirmed that coffee  made with the Aeropress was much friendlier to their stomachs.
The Aeropress is slightly more time-consuming for the user than traditional french press or drip coffee makers.  It takes about the same amount of time as a standard espresso machine.
Learn about espresso and hear the taste by taste coffee review by Coffee Nate about Honey Bean Coffee.  Check out the coffee review at:
http://www.coffeenate.com/espresso-tips/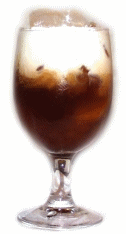 I found this recipe for Thai Iced Coffee over at : CoffeeRecipes.com and though I have not tried it, I found it to sound very interesting. Maybe you will be able to try it before I do. Isn't the photo pretty? Evidently the espresso was poured first in the image. Lovely drink.

Thai Iced Coffee
* In a tall, slender high ball glass add crushed ice (about 1/3 of the way).
* In a separate glass, fill with 2 oz sweetened condensed milk.
* Pour 2-3 oz cold espresso (depending upon strength you like) over the sweeten condensed milk (coffee sits on the top as a layer).
* Stir with a spoon until well blended.
* Pour over the ice in the other glass.
Think about adding vanilla or some other flavoring such as cinnamon for a different spin.
You should make the espresso long enough ahead so that it has cooled. Place it in the fridge the day before if you'd like.
Pumpkin Spice Latte ( compare to Starbucks )
Note: if you are using the pumpkin spice syrup, you do not need the canned pumpkin
Ingredients:
1-2 shots espresso (1/4 C. espresso or 1/2 C. strong brewed coffee)
1 c. half and half
1 tb. canned pumpkin :: you may use either whole pumpkin or pie mix
1 tsp. Torani Pumpkin Spice Syrup
Optional pumpkin pie spice, nutmeg, or cinnamon.
Directions:
(no espresso machine?)
To make a pumpkin latte in your home: In a small saucepan, stir pumpkin puree into half and half. Add the syrup. Heat on medium until steaming, stirring constantly. You do not want the milk to burn.
In a blender on high speed, use whip setting for 20 seconds until foaming. Pour the mixture into a tall glass and pour coffee over the top. Dust with ground pumpkin pie spice or nutmeg.
(with an espresso machine)
Pour syrup in medium mug and pull your shots. Steam the half and half. Add shots to syrup and then add the steamed milk. Dust with nutmeg. Yum yum!
A nice copy-cat recipe idea for Starbucks DoubleShot. It is my recipe and I think it is pretty darn close. Try it for yourself.
2 ounces espresso
2 oz half-and-half (or if you're brave and skinny, heavy cream)
2 oz 2% low-fat milk
1 t. extra fine sugar or 1 pkg. artificial sweetener.
Mix it up and pour over ice!