Coffee is good for a whole lot of things, but I guess too much of a good thing can possibly lead to something not so good. A recent study at Harvard has linked having three or more cups of coffee per day to a slight increased risk of developing exfoliation glaucoma.
The study examined 78,977 women in a Nurses' Health Study and 41,202 men in the Health Professionals Follow-up Study. All of the participants were over 40 years old and none of them suffered from glaucoma. All of them had received eye exams from 1980 through 2008 according to Science Daily. All participants participated in health questionnaires.
Exfoliation glaucoma is caused by tiny white flakes that build up on the lens of the eye, according to the Medical Daily. The buildup causes pressure inside the eye. Its generally linked to 10% of people over 50 years old. Exfoliation glaucoma can lead to everything from vision loss to blindness.
"If the findings are confirmed," study author Jae Hee Kang, ScD, from Brigham and Women's Hospital in Boston said, according to Yahoo! Health, "those at risk of exfoliation glaucoma—particularly those with a family history, would be recommended to limit their intake of coffee to less than three cups per day."
I don't know about you, but I'm always looking for the next weight loss fad. I was tickled pink when I found a possible solution that involved coffee, well green coffee bean extract, but that's close enough, right?
Green coffee bean extract was initially researched by several universities because of its perceived health benefits of supporting optimal fat metabolism and blood sugar regulation. They discovered that the seed inside of red coffee cherry berries is what actually does it. It has Chlorogenic acid, which is the magic ingredient. Because of the small successful study results concluded from dieting with pure green coffee bean extract, it was published in the prestigious the "Diabetes, Metabolic Syndrome and Obesity Journal" as an effective body fat burner and fat metabolism booster. The study followed the participants or 12 weeks and they lost about 1lb per week.
Dr. Oz was so impressed with the study that he featured it on his show. He was quick to say that you also need to maintain healthy diet and exercise.
Eric T. Schneiderman, New York's Attorney General, is investigating whether or not the energy drink industry is misleading consumers about the ingredients in their products along with the health values that they are alleged to contain.
PepsiCo and Monster Beverage Corp claim that their products will boost energy with ingredients like B vitamins, taurine and ginseng. Schneideran is concerned that the boost comes more from caffeine than the other ingredients. The problem is that the amounts of none of these ingredients are listed on the energy drink packaging.
The investigation that Schneideran is heading is looking at whether or not energy drink companies are deliberately trying to mislead their consumers about their ingredients and what is giving them the energy boost. Are you paying a premium for little more than a cup of coffee? I guess we will find out!
In an attempt to expand their offerings beyond coffee and tea, Starbucks has purchased San Bernardino, CA based Evolution Fresh Inc.
The purchase price was $30 million.  Starbucks plans to open a new chain of wellness stores that will focus on juices and simple foods.  "We are not just acquiring a juice company," said Starbucks CEO Howard Schultz. "We are using this acquisition to position ourselves, in a broad way, to build a multibillion health and wellness business over time."
Starbucks has not released a detailed plan at this time as to how many stores they plan to open and exactly when and where they plan to roll the first one out.
We love our coffee!  That goes without saying, it tastes great, perks us up and makes everyone else bearable on a Monday morning.  But the immediate benefits of coffee are not the only reasons to love it. 
Kerri-Ann Jennings, M.S., R.D., Associate Nutrition Editor at EatingWell Magazine has given us five health reasons that we should not stop drinking coffee.  Here they are:
1. It protects your heart:Moderate coffee drinkers (1 to 3 cups/day) have lower rates of stroke than noncoffee drinkers, an effect linked to coffee's antioxidants. Coffee has more antioxidants per serving than blueberries, making it the biggest source of antioxidants in American diets. All those antioxidants may help suppress the damaging effect of inflammation on arteries. Immediately after drinking it, coffee raises your blood pressure and heart rate, but over the long term, it actually may lower blood pressure as coffee's antioxidants activate nitric acid, widening blood vessels.
2. It diverts diabetes: Those antioxidants (chlorogenic acid and quinides, specifically) play another role: boosting your cells' sensitivity to insulin, which helps regulate blood sugar. In fact, people who drink 4 or more cups of coffee each day may have a lower risk of developing type 2 diabetes, according to some studies. Other studies have shown that caffeine can blunt the insulin-sensitivity boost, so if you do drink several cups a day, try mixing in decaf occasionally.
3. Your liver loves it: OK, so the research here is limited, but it looks like the more coffee people drink, the lower their incidence of cirrhosis and other liver diseases. One analysis of nine studies found that every 2-cup increase in daily coffee intake reduced liver cancer risk by 43 percent. Again, it's those antioxidants—chlorogenic and caffeic acids—and caffeine that might prevent liver inflammation and inhibit cancer cells.
4. It boosts your brain power: Drinking between 1 and 5 cups a day (admittedly a big range) may help reduce risk of dementia and Alzheimer's disease, as well as Parkinson's disease, studies suggest. Those antioxidants may ward off brain cell damage and help the neurotransmitters involved in cognitive function to work better.
5. It helps your headaches: And not just the withdrawal headaches caused by skipping your daily dose of caffeine! Studies show that 200 milligrams of caffeine—about the amount in 16 ounces of brewed coffee—provides relief from headaches, including migraines. Exactly how caffeine relieves headaches isn't clear. But scientists do know that caffeine boosts the activity of brain cells, causing surrounding blood vessels to constrict. One theory is that this constriction helps to relieve the pressure that causes the pain, says Robert Shapiro, M.D., Ph.D., associate professor of neurology and director of the Headache Clinic at the University of Vermont Medical School.
So go ahead, drink up and live long!
The Harvard School of Public Health has released an observational study showing that moderate coffee consumption can help reduce the risk of developing certain diseases including diabetes, heart disease, Parkinson's disease, gallstones, liver cancer and cirrhosis. 
The study was based on researchers drawing conclusion based on differences between the number of disease cases in coffee drinkers versus non-drinkers.
The Harvard University School of Health has an 
infographic which includes Health Benefits, Health Risks, Caffeine Comparisons, and a Facts & Statistics a page addressing each disease the study indicated was affected by coffee consumption.
Coffee is typically only 5 calories a cup.  Add the caffeine and its a great  boost for your weight loss regimen.  But, without thinking about it, you can sabotage coffee's benefits to your bottom line. 
According to Men's Health, most people can add on 400 or more calories by ordering specialty coffee drinks.  Whipped cream and specialty syrups can really pile on the calories.  even with watching what you eat, you must count in the calories you drink as well.
http://health.yahoo.com/experts/eatthis/49512/unhealthiest-coffee-drinks-in-america/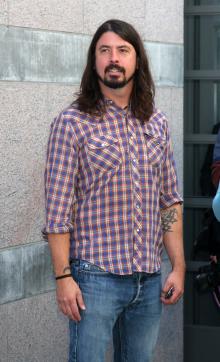 David Grohl, frontman for Foo Fighters, has confirmed that he has, in fact, been hospitalized over coffee.  His confession comes after a spoof video making fun of his coffee addiction was aired.  He admitted that it was based on his own actual coffee emergency.
Grohl was hospitalized after an intense work schedule took a toll on his health and he began experiencing chest pains.
The film showed the rocker in a studio with Them Crooked Vultures bandmates and depicted Grohl's love of coffee.  It ended with the tag line "rushed to doctor due to the onset of unwanted physical effects caused by too much caffeine.  For reals.  He was kind of a mess."
Grohl told Britain's Absolute Radio "That was a year ago, the 'Fresh Pots" video.  We were in the studio making a record and I was drinking a lot of coffee.  At one point I was doing Vultures stuff at night, Foo Fighters stuff during the day and I had a newborn at home and I was sleeping maybe two or three hours a night on an air mattress in a guess bedroom.  And yea, I had too much coffee and I started having chest pains, so I went to the hospital and they told me to stop drinking so much coffee."
According to Reuters Health News , the Swedish researchers who are releasing the results of their study in the November International Journal of Cancer, drinking coffee may significantly lower the risk of endometrial cancer.  The benefits of coffee  are strongest for obese women.
Below is the article with a link at the end for you to go straight to the page:
What is endometrial cancer?
Forming in the tissue that lines the uterus, endometrial cancer is one of the most common types of cancer affecting women in America.  Also known as uterine cancer, this form of cancer can be very deadly.  According to the National Cancer Institute, there are 42,160 predicted new cases this year, and 7,780 expected deaths.  If discovered early on, a complete removal of the uterus can take care of endometrial cancer altogether. 
How does coffee help prevent endometrial cancer?
How exactly coffee helps is unknown, although, in 2008, and possibly earlier, it was proposed that coffee's impact on insulin and estrogen levels, decreasing the circulation of both, may reduce the risk of uterine cancer.  The Swedish researchers believe that the three factors of blood sugar levels, estrogen, and fat cells have something to do with the benefits of coffee, with all three being impacted by coffee consumption and as well being factors in contracting endometrial cancer. 
In the Swedish study, 60,634 women were monitored for 17 years.  Their coffee habits were recorded, as well as their health.  One percent of the women ended up with uterine cancer.  The study concluded that for women of an average weight, two cups of coffee a day reduced the chances of getting cancer by 10%, for overweight women, 12%, and obese women, 20%. 
http://www.examiner.com/x-9907-DC-Coffee–Tea-Examiner~y2009m10d31-Another-potential-health-benefit-of-coffee-lowering-the-risk-of-endometrial-cancer
Drink coffee for your liver. It seems to reduce inflammation and even fights cancer. So, until they find a way to gt it into a pill I'm going to use this as an excuse to keep drinking my coffee.
Researchers have found another good reason to go to the local espresso bar: several cups of coffee a day could halt the progression of liver disease, a study showed.

Sufferers of chronic hepatitis C and advanced liver disease who drank three or more cups of coffee per day slashed their risk of the disease progressing by 53% compared to patients who drank no coffee, the study led by Neal Freedman of the US National Cancer Institute (NCI) showed.

Study
For the study, 766 participants enrolled in the Hepatitis C Antiviral Long-Term Treatment against Cirrhosis (HALT-C) trial – all of whom had hepatitis C which had not responded to treatment with anti-viral drugs – were asked to report how many cups of coffee they drank every day.

The patients were seen every three months during the 3.8-year study and liver biopsies were taken at 1.5 and 3.5 five years to determine the progression of liver disease.

"We observed an inverse association between coffee intake and liver disease progression," meaning patients who drank three or more cups of java were less likely to see their liver disease worsen than non-drinkers, wrote the authors of the study, which will be published in the journal Hepatology.

Protection
The researchers put forward several ways in which coffee intake might protect against liver disease, including by reducing the risk of type two diabetes, which has been associated with liver illness; or by reducing inflammation, which is thought to cause fibrosis and cirrhosis of the liver.

Even caffeine, the chemical that gives a cup of coffee its oomph, came under the spotlight, having been found in previous studies to inhibit liver cancer in rats.

But drinking black or green tea, which also contain caffeine, had little impact on the progression of liver disease, although there were few tea drinkers in the study.

According to the World Health Organisation (WHO) three to four million people contract hepatitis C each year. Seventy percent of cases become chronic and can cause cirrhosis or liver cancer. – (Sapa, October 2009)

http://www.health24.com/news/DietFood_News_Feed/1-3420,53056.asp
Many of us feel sluggish in the morning, be  it in a boardroom or in a classroom, we find ourselves tuning out, nodding off and generally not paying attention to what's going on around us.  There is a solution.  Drinking tea and coffee with your breakfast will help to keep you alert, active, and healthy.
Coffee has also been found to help prevent Type 2 Diabetes.  Tea has not been found to have the same effect.  The Iowa Women's Health Study showed that women who drink four or more cups of coffee a day are 20% less likely to develop diabetes than non-coffee drinkers. 
Coffee also has an effect on Parkinson's Disease.  Coffee drinkers are 80% less chance of being diagnosed with the disease than non-drinkers.  They also have a 25% less chance of developing colon cancer, and 80% less chance of developing cirrhosis of the liver and a 50% less chance of developing gallstones. 
Drink up and live well!
To read more about coffee and its benefits, please see http://www.retrieverweekly.com/?module=displaystory&story_id=4701&format=html