Its almost here, National Coffee Day 2012!! National Coffee Day will be on Saturday, September 29. Many companies are offering deals and freebies on that day, some are even honoring National Coffee Day a little earlier!! Yea!!!
Caribou Coffee is debuting Amy's Blend coffee in their stores nation wide on National Coffee Day by offering a free small cup of Amy's Blend to customers. They will be selling larger sizes at a discounted price if a small doesn't tickle your fancy. You will pay .50 cents for a medium and $1 for a large cup. They will be officially releasing Amy's Blend sometime in October.
McDonalds and Einstein Bros. Bagels are is not satisfied with giving coffee just one day so they are having a National Coffee Week!
At McDonalds you can get a free small coffee everyday starting on September 23rd on the East Coast. If you don't live on the east coast, you should still check your local McDonanlds because word has it that some franchise owners who are not on the east coast are opting in on the celebration and offering freebies too, some throughout the week and some just on National Coffee Day.
Einstein Bros. Bagels are celebrating coffee all week long with discounted coffee drinks. They are offering 50% off specialty coffee drinks of the day throughout the week. Each day brings a new discounted drink. Hold on, they are not done! On National Coffee Day, pumpkin-flavored lattes will be the drink and its buy one get on free! There are 2 things I love in life, a true BOGO (buy one get one free) sale and anything pumpkin in the fall. I'm a happy camper!
Tim Hortons has a BOGO coffee deal too. "Like" Tim Hortons on Facebook and you'll be able to print out a coupon to get a free cup of coffee when you buy a cup on National Coffee Day.
7-Eleven is creating their own brand of fun by designating the day before National Coffee Day, Friday, September 28th, as CofFREE Day. On CofFree day participating stores will give you a free large cup of hot coffee, tea, latte or cappuccino between 6am and 10am while supplies last!
Krispy Kreme is giving away free 12 oz cups of coffee on National Coffee Day and you will also get a chance to enter to win a free coffee for a year!
Kangaroo Express, a convenience store chain located in 13 Southern states, will be selling its Bean Street brand of coffee for a penny on National Coffee Day.
If I find more deals I'll let you know. In the meantime, if you know of one I haven't mentioned, please let me know in the comments!
Tis' the season for flavored coffee!!!! This year, more regional and grocery store brands are participating with holiday blends of their own according to Bloomberg Business Week reports.
Starbucks has Peppermint Mocha Latte, Gingerbread Latte and Eggnog Latte. They also carry a lower-calorie version of the Peppermint Mocha Latte in select markets.
Dunkin' Donuts has added a low-cal version of its gingerbread-flavored drip coffee to its holiday lineup.
Caribou Coffee has Fa La Latte and Ho Ho Mint Mocha.
Maxwell House is offering a Peppermint Mocha Latte mix.
Get your holiday flavor on!
Starbucks has teamed up with Yahoo to offer their customers e-books and movies in an attempt to encourage them to "stay a while" and purchase more items at Starbucks.
Starbucks, who traditionally charged for wireless internet, began their free wireless internet campaign in July of this year.  Now when you access Starbucks' wireless service, you will be welcomed to watch moves, read books or enjoy access to some paid sites  from their partners, some of which include The Wall Street Journal, USA Today, The New York Times, Apple's iTunes, local news provider Patch, and Zagat.
If you want to read the books at home, you may purchase them through the internet service.  Starbucks makes a small profit from the purchase.  
The e-books on the network are being offered through the Bookish Reading Club, a partnership with publishers, including Harper Collins, Hachette, Penguin, and Simon & Schuster.
Some books will be offered as excerpts only – but the customer will have the option of buying the whole book if interested. Some material will be made available on the network before its release date. One of the first such offerings is a preview of Anita Shreve's upcoming novel "Rescue."
McDonald's just recently introduced Frappes to its menu in an attempt to dive deeper into the specialty drink market.  It began with premium coffee at a lower price than Starbucks and expanded into iced coffee and lattes. 
Now McDonald's is taking another plunge into the Starbucksphere.  It is going to introduce Smoothies to its menu.  This is aimed at consumers who stop at Starbucks and other specialty coffee retailers and convenience stores during the middle of the day to get a drink.  It is hoping that the Smoothie sales will increase its revenue, as did the specialty coffee drinks.  Specialty coffee is a $13 billion market in the USA, says the Specialty Coffee Association. Coffee sales at McDonald's have jumped double digits every year since 2006, when it rolled out premium coffee.
Burger King is making a statement in the coffee market.  We have seen McDonald's vamp up their coffee to compete with Starbucks.  Now Burger King is hopping on the band wagon too.  They will be serving on the best coffee, Seattle's Best that is, is at least 7,250 US stores by September of this year.
"The addition of Seattle's Best Coffee expands on our 'Have it Your Way' brand promise by offering our guests even more beverage options and strengthens our ability to remain competitive in a continuously changing industry," the restaurant chain's senior marketing VP, John Schaufelberger, said in a statement.
By replacing their BK Joe coffee, Burger King will allow it to "have it your way" when it comes to your java.  You will be able to have your coffee hot or cold and add flavorings and whipped toppings for between $1 and $2.79 per cup.
We all loved it as a kid.  ICEE made our mouths turn blue and red and left us full of delight.  Now, as adults, they are about to make us even happier. 
ICEE has teamed up with Javo Beverage to introduce 2 new iced coffees in North America under the trademark name of Java Freeze.
Cody C. Ashwell, Javo chairman and CEO, said, "ICEE is a stand out supplier to the foodservice industry and has longstanding relationships with some of the most important foodservice operators in our industry." Ashwell added, "We believe this alliance will complement our own sales efforts because ICEE has reach to thousands of independent foodservice operators seeking to capitalize on the growing market for iced coffee but require a non-concentrated dispensed beverage solution because of lower daily cup sales."
Mr. Ashwell added, "As the leading provider of dispensed beverage iced coffee, we have the infrastructure, service, and distribution capabilities to supply national foodservice operators with specialty iced coffee as well as hot coffee and tea. Our products are cost effective and eliminate waste, and in this challenging economic environment, foodservice operators are committed to offering great tasting beverages in the most cost efficient manner possible."
The company will intitially start out with two tasty flavors, caramel latte and mocha latte.  Look for them soon anywhere ICEE's are sold.  Come back to coffeesage.com and let us know what you think of ICEE's frozen coffee.
Do you have some extra time?
If you have an espresso machine that can make good crema, a steady hand, and a lot of free time. You can learn to do this.
It doesn't make your latte taste any better, but it's still neat.
Starbucks Gingerbread Latte copy
1-2 shots espresso and very strong (fresh) coffee
8 ounces milk, steamed (with a little foam) (if you do not have a steamer, you can make foam with a hand whip.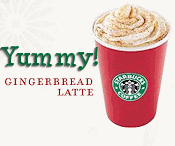 Add a tablespoon of gingerbread syrup either by making it yourself as I have shown you in the previous entry or by purchasing a like product that I also listed for you in the previous post.
Pour the syrup into a mug and add the espresso and then the milk. You can top with whipped cream if you so desire but do not forget to sprinkle a bit of nutmeg on top the foam or topping to make it just right. Comparable to

Starbucks Gingerbread Latte
. Enjoy!
The fall season is closing in on us and so are the holidays. Don't you wish you could make all those seasonal coffee drinks you love, all by yourself?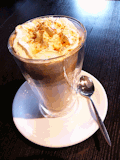 I love ginger bread, gingerbread syrup, and all the yummy things you can make with it. Obviously, I generally intend it for my coffee drinks. Here is a simple recipe you can follow to make a tasty gingerbread syrup yourself saving you both time to go buy it and of course, money. Enjoy!
Gingerbread Syrup
1 1/2 cups water
1 cup fine granulated sugar (bakers sugar is great for this)
2 teaspoons ground ginger
1/4 teaspoon ground cinnamon
1/4 teaspoon vanilla extract
* Combine the water, sugar, cinnamon, ginger, and vanilla in a small to medium saucepan. Medium is probably better since the syrup could boil over the top.
* Bring mixture to a boil then reduce heat and simmer uncovered for 20 minutes. When done, pour into a melt-proof container and let cool. It will thicken a bit more once cooled.
Use in your favorite gingerbread recipe or coffee drink. See Starbucks style Gingerbread Latte recipe to follow.
If you do not want to make it yourself, here is a great syrup that will certainly do the trick.

Or for those who love sugar-free syrups, try:
image credit: © What I Love..
Pumpkin Spice Latte ( compare to Starbucks )
Note: if you are using the pumpkin spice syrup, you do not need the canned pumpkin
Ingredients:
1-2 shots espresso (1/4 C. espresso or 1/2 C. strong brewed coffee)
1 c. half and half
1 tb. canned pumpkin :: you may use either whole pumpkin or pie mix
1 tsp. Torani Pumpkin Spice Syrup
Optional pumpkin pie spice, nutmeg, or cinnamon.
Directions:
(no espresso machine?)
To make a pumpkin latte in your home: In a small saucepan, stir pumpkin puree into half and half. Add the syrup. Heat on medium until steaming, stirring constantly. You do not want the milk to burn.
In a blender on high speed, use whip setting for 20 seconds until foaming. Pour the mixture into a tall glass and pour coffee over the top. Dust with ground pumpkin pie spice or nutmeg.
(with an espresso machine)
Pour syrup in medium mug and pull your shots. Steam the half and half. Add shots to syrup and then add the steamed milk. Dust with nutmeg. Yum yum!