Many people struggle over choosing the perfect baby name for their new bundle of joy, but one Connecticut couple simply could not choose. After narrowing their name choices down to two names, they decided to let the patrons of their local Starbucks vote on the name. They put up a sign at Starbucks' New Haven Green location asking for others to help them choose between the names Jackson and Logan. A whopping 18000 customers cast their votes in a coffee cup and chose Logan as the baby's name. The parent's must still be torn because they say they will name the infant Logan Jackson Dixon. I think they got the best of both worlds. Its a cute name. Maybe they were really trying to decide between Logan Jackson and Jackson Logan? What do you think?
As of today (January 3rd) Starbucks is going to start offering reusable cups in their cafe's for $1. They will look like the paper cups that Starbucks now uses and you will still get the 10 cent discount on your refills. To insure that your cup is sanitary, it will be disinfected before each refill with boiling hot water.
Well, I'll admit I'm in shock, especially in this economy, but its true, Starbucks has introduced a new gift card made of stainless steel and you can have one for $450. It will be available in limited quantities from the luxury website, www.gilt.com. 5000 will be available beginning at 9am on Friday, December 7th.
The card itself is made of $50 worth of stainless steel. It comes with a $400 credit loaded onto the card and the card holder will be an official gold level Starbucks member.
So, will you be getting one?
Starbucks has launched a new coffee. Its called Costa Rica Tarrazú Geisha and its part of their luxury reserve line. One cup of this java will cost a hefty $7 for a 16oz cup and $6 for a 12oz cup.
Geisha is so rare that there are only 450 individually numbered 1/2lb bags of the beans. Its only available in 46 of the chain's U.S. Northwest locations that have the Clover brewing machines.
For the last two years Christine Hall, a 66 year old law librarian from Virginia, has dropped 76 pounds by eating most of her meals at Starbucks.
Hall decided to drop the weight after she was turned down to donate a kidney because of her size At 200 pounds and five foot, four inches tall, the surgeons considered the donation procedure to be too much of a risk to take. f she was serious about donating a kidney, she had to get serious about loosing the weight.
Using Starbucks calorie posts she restricted her diet to as little as 876 calories per day. Since loosing the weight she has been allowed by doctors to participate in a 32-person altruistic kidney swap. She currently weighs 114 pounds.
Of course, we must question whether or not this diet meets the ideal food requirements needed by a person each day. Loosing weight should always be done while not sacrificing nutritional value.
Starbucks is getting greener all the time. They are flirting with a new recycling process that will turn coffee grinds and muffins into laundry detergent and bio plastics.
This mission is being lead by scientists at the City University of Hong Kong and is being tested at a new food 'biorefinery,' that diverts food waste and transforms it into viable, usable products.
The biorefinery process involves combining the baked goods with a mixture of fungi that help break down the carbohydrates into simple sugars. Its fermented in a vat where bacteria turns the sugars into succinic acid which is a material used to produce everything from laundry detergent, plastic, to medicine. The baked goods can be used to create livestock feed.
The Starbucks in Hong Kong itself currently produces around 5000 tons of coffee and pastry waste each year, which currently ends up in either incinerated, composted or disposed of in landfills.
In an attempt to expand their offerings beyond coffee and tea, Starbucks has purchased San Bernardino, CA based Evolution Fresh Inc.
The purchase price was $30 million.  Starbucks plans to open a new chain of wellness stores that will focus on juices and simple foods.  "We are not just acquiring a juice company," said Starbucks CEO Howard Schultz. "We are using this acquisition to position ourselves, in a broad way, to build a multibillion health and wellness business over time."
Starbucks has not released a detailed plan at this time as to how many stores they plan to open and exactly when and where they plan to roll the first one out.
Alec Baldwin is not having a good morning.  He stopped by Starbucks this morning and then tweeted "Starbucks on 93 and B'way. Uptight Queen barrista [sic] named JAY has an attitude problem.,"  He went on to tweet "Clyde, on the other hand, outside DINOSAUR BARBECUE @ W 125 n H River is MY MAN," he tweeted. "Keeping the hickory ovens going, he is 2dayz Coolest NYer."  The New York Post was interested in this "barista incident" so they contacted the Starbucks in question only to find that no one by the name of JAY worked there.  This goes to show that no one can function property until their morning dose of caffeine has kicked in!
According to the St. Louis Post Dispatch, Starbucks has been sued by a Missouri family after their loved one tried to thwart a tip jar robbery and ended up dead.
Roger Kreutz was ordering coffee in a Crestwood Starbucks on March 3rd, 2008 when Aaron Poisson, who was 19 years old, grabbed the tip jar from the counter and ran.  Kreutz chased him to his car where a physical altercation ensued.  Poisson got in his car and stuck Kreutz with the vehicle while trying to make his escape.  Kreutz later died from his injuries.
Poisson, of Cumming, Ga., was later arrested in St. Louis, and pleaded guilty of involuntary manslaughter.  He was sentenced to one year in prison,the  St. Louis Post Dispatch reported.
Kreutz' family has filed a wrongful-death lawsuit against Starbucks, blaming them for inviting criminal activity by leaving tip jars near customers. According to the lawsuit, obtained by the St. Louis Post Dispatch, Starbucks "did not employ security to prevent the perpetration of such crimes" and that it "invited the act of perpetration of said crime" by having a tip jar.
Starbucks did not comment to the Dispatch regarding the lawsuit.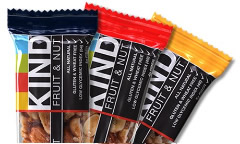 KIND Healthy Snacks (KIND) introduces two new flavors at Starbucks, Apple Cinnamon Nut + Fiber and Blueberry Vanilla & Cashew.
KIND sent me a few of these to try, after reading the label and seeing how healthy they were, I was skeptical.  But after I had one, I was amazed at how good they were.
These healthy bars are all natural, low in sodium, gluten free, wheat free, dairy free and non GMO.  (almost too healthy)
KIND says be kind to your body, which is great, but the taste is good enough that I'd eat it if it wasn't healthy.  When you open the package you can actually see what type of fruit and nuts you are about to eat.
These two new flavors are only available at Starbucks, but  you can check out some of their other offerings online @ http://www.kindsnacks.com
As most of you know, Starbucks has released a new size of coffee, the Trenta, which bosts 916ml of liquid bliss, available in all markets on May 3rd.  Apparently it has been a success in the test markets, despite the large calorie punch that it can pack on the waistline.
This is causing some stir given the obesity crisis that now faces the United States.  The average human stomach cannot hold 916ml.  The average capacity is only 900ml.  Given that number, its best to pass up the pastry or risk exploding, or at least being in desperate discomfort, neither of which I am a fan of.  I love coffee, don't get me wrong, but this is one big cup of Joe.  It puts it into prospective when you consider that the average bottle of wine is 750ml.  Now you see what I mean. 
Given the sugar content of some of the drinks, this is likely to send us into a diabetic coma.  Although I know it cannot be "good" for me, I will most likely drink it anyway because, lets face it, we here at CoffeeSage like our coffee, A LOT!  I'll just try to sip it over a long period of time and do my best to pace myself.  Perhaps this new super-sized marvel will become one of those "drink/food challenges".  I might just be able to win that competition!