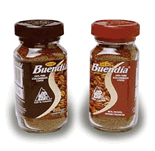 Loving coffee the way I do I can say that I've never been a fan of instant coffee, ever. I've also never had a mind to review any. But here I am, going against the grain about to do just that. I got an email from a very nice gentleman asking if I would be interested in reviewing this Buendia Coffee. As I go back and access the situation, I swear I did not catch the words "freeze dried" or "instant" the first time around but certainly do see it as I re-read the email. Had I really paid attention the way I usually do and had noticed those certain words, I would have probably turned the review down. I sure am glad that I played the dummy that day. I would have never known…..
First off let me thank Rodney for the most generous amount of coffees he sent to me. There are not that many who make the extra effort to please. I appreciate all that I get since I do not charge $$ to review a coffee product. Other than product, my reviews are freebies.
I received the shipment and spent several minutes getting into the box. ( what a well packed box ) I opened it and gasped as I saw that it was "instant coffee". I thought, well ok, I said I'd review it so I will do just that. I put a cup of water in the microwave and set it at 2 minutes until it was bubbling. I added a well rounded teaspoon of the freeze dried substance and stirred. Oh my! What's this? A pleasant aroma? I was stunned to say the least. I inhaled that for a bit and then sipped. ahhhh… reading the lable again…. freeze dried coffee…. yep, that's what it says. But the taste is far off from that description.
It took me a while to figure out why this instant coffee tasted so much like fresh ground coffee beans but it finally came to me. It is the beans! Most instant coffees are made from the bottom of the barrel coffee bean, Robusto coffee beans. That is why you can that bad after taste and quite frankly, any coffee instant or otherwise made from Robusto, is just bad coffee, period. Buendia Coffee is made from high quality Arabica beans. It is 100% pure Colombian and carries with it, the Colombian seal. You know, that Juan Valdez stamp. 😉
It is absolutely delicious and I have nearly polished off one jar of it already. It does have the nice rich aroma, and bold Colombian bean taste. It is well worth checking out if you are looking for a quick coffee fix or a perfect after dinner coffee. Love it!
You can get the same great coffee in the Decaf version for all you coffee drinkers who don't want to drink "real coffee". Ok, I'm biased, I admit.
I have one canister of Cafe Buendia Organic which comes to DINAS Corp direct from the coffee growers. An equally delightful freeze dried instant coffee. Drink it and help the growers.
Included were three flavored type instant coffees of the same origin. Amaretto, Irish Cream, and Hazelnut. Since I am not a large fan of any flavored coffee and did not feel I could be objective, I brought in a third party to try these out and give a report to me. Now, mind you, I've never heard of a flavored freeze dried coffee but there they were and according to Jason, my son, they are very flavorful and do a good job at being each flavor. I do know this, they smell wonderful. I wish they were a candle. 🙂 My son has reached the bottom of the jar on one (the hazelnut) and is working his way through the others. He truly has enjoyed them all.
With my shipment came a couple of candies that I would like to rave about. As with the coffee, I have never heard of the brand but am pleasantly surprised by what I tasted.
I got Coffee Delight and Cafe Gurme (gourmet) candy. Both are lovely products.
The Coffee Delight has a mild hint of coffee and cream in the shape of a bean. It is rich and creamy and long lasting. No bad film left in your mouth. Just all around pleasant. A very nice treat. Made with Colombian coffee!
The Cafe Gurme candy is still a coffee type candy but has a caramel background. Very yummy and creamy. I highly recommend both candies. Great snack, or after dinner treat. Both candies come wrapped in an attractive gold foil wrapper. Both are products of Colombia. Awesome!
You can find these coffees and candy's by visiting DINAS Corp where they deal in a few other categories than just coffee. Check them out and see what you think. They are very nice people. Helpful and willing to please. I recommend them.
If you want more in-depth information on Buendia Coffees, visit the growers website: Buendia Coffee. This site is packed with info about the coffee, it's growers, and manufactures.