Cabaret Brewed Chocolate whole bean beverage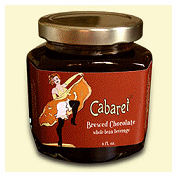 Not a coffee but don't forget that chocolate is caffeinated. I was pleasantly surprised when I received the Cabaret Brewed Chocolate and tasted it right from the jar. Keeping with an ancient Aztec tradition, it is sort-of a smokey, rich, chocolate taste that is really different from any other chocolate that I've tasted.
As you can see from the image below, you just add 1 teaspoon to 1/2 cup hot water. The chocolate is concentrated so it does not take very much. Stir and enjoy. Did I say enjoy? Read on…
This beverage stimulated me without the jitters and what is really sweet about it all, when I had a cup in the evening, I did not get stimulated but rather relaxed. I call that an all around beverage!
There is just a bit of sugar in the concentrate but one should not worry too much about that. It is sweet enough without any additional sweetner.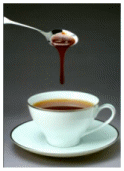 Cabaret Brewed Chocolate has only a small amount of caffeine but very high in theobromine which is a cousin to caffeine providing a different effect. They say Theobromine is a gentler. longer lasting stimulant. One teaspoon contains nearly an ounce of cocoa beans. wow!
Visit their website to purchase Cabaret Brewed Chocolate and to learn more about the history and the product. Be sure to watch the video. Very interesting history told. It is $14.95 a jar and each jar contains 24 servings. That is 20 cocoa beans per serving. Love it!