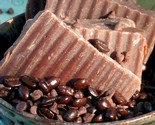 Well, I've used chocolate shampoo and chocolate soap but this was my first for coffee soap. Don't taste it! It is bad! Just kidding. I didn't taste it but I certainly did shower with it and have it by my sink for hand washing too.
Daisycake Soaps sent me a few to try and a lip balm that is coffee flavored as well.
The soaps produced a good lather and left my hands feeling clean and fresh. The scent is quite close to that of coffee with chocolate and the Turkish Mocha Soap was just a yummy. I would purchase them even if I had not got them free for review. I like em!
The lip balm had a good taste and went on with a silk appeal. However, I did not feel it had enough staying power. Maybe it wasn't suppose to have. I still liked it though.
I recommend trying the soaps. They are reasonable in price $2.75 and they last an acceptable amount of time.