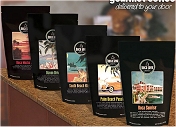 It has been my pleasure to grind and taste a bit of Boca Java's great blend called Boca Sunrise and a fine Columbian they call Cool Breeze Columbian. Both are terrific and since it is roasted to order, makes it all the more special.
This past winter I ordered a white hot chocolate from them named White Mocha Blizzard. I fell in love with this rich and creamy dream and knew I must be in for a treat with the coffee they were going to send me.
Just a quick comment on Boca Java's website. I love the warm and inviting colors they have their site designed in. They have incorporated a top bar with drop down menus that make navigation simple and finding what you seek as easy as pie. They include a great learning areas where they explain their roasting process and include recipes and a bit about their guarantee. I know you will be pleased while visiting their online store.
Boca Sunrise:

Everyone knows I am a dark roast gal but this medium blend did impress me. Boca Sunrise is a blend of African, Central and South American beans and is full bodied yet mellow with a clean finish. It is a rare thing when I like a medium or light roast but this one certainly did fill the bill. I could taste my coffee and not the water. That may be hard to explain why I say that so I will pass on that for now. Boca Sunrise is a keeper!
Cool Breeze Columbian:

Even though I did enjoy the medium roast above, this one is certainly more to my tastes. It is a medium to dark roast and as they mention, does have a walnut flavor which makes it a robust and bold tasty must have for any coffee maker. It leaves you with a refreshing feeling and I was able to taste the roast through the first sip.