The coffee just keeps getting better. Just when you think you've had the best ever, another company comes along with something just as awesome or even better than that.
In a nutshell, I love Copper Door Coffee Roasters and their wonderful, fresh roasted coffee. But we can not do things in a nutshell, can we? I must write more than that.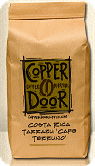 First, I have to comment on their bags. It is like a plain brown sack you'd send a lunch in. I love it! Simple as that is, it makes for the most elegant of presentation to me, not to mention environmentally friendly. Kudos. Don't ever change that.
Here's a wee bit of info on them. The rest you can read for yourself on their beautifully designed website.
Keeping with Artisan tradition, beans are roasted a batch at a time (8 pounds max) and not mass produced like some other companies do. Tidbit: They roast using 100% wind purchased from the wind farm near Ft. Collins, CO. Isn't that awesome? Read more on their website.
Be sure to keep on to the next page to read the rest of the review!

The Copper Door Coffee Roasters website is very pretty and somewhat unique. It is a pleasure to visit and fun to navigate through. They include a good description of themselves, their roasting process, and display a great selection of coffees. I am certain that you will enjoy your visits there as much as I do.
The coffees!
They kindly sent to me three to try and enjoy. I will attempt to do them some justice here but doubt I will really be able to capture the real essence in mere words. You must try it for yourself. These all came to me in the rare, 1 pound bag. Only the second to ever send that amount in one bag.
Costa Rica:

This roast rings true to the Costa Rica bean. A medium roast/body that does carry with it an extended and welcomed aftertaste. As they mention on their description, this is somewhat rare and I agree. With a slightly above average wet aroma it surprises you with a nice depth in flavor. It is bright and leaves a nice coating in the mouth. A delicious aftertaste. I feel the Costa Rican bean deserves a bit more attention.
Indonesia Sulawesi Toraja:

I was surprised by this one. At first thought, I did not think I would like it. I had a bad experience one time and stopped my tasting of it ever since, but I said, what they heck. Here it is, I'm going to try it. The aroma is very tantalizing.
This one is very elegant and with some hint of chocolate, leaves a nice coating in the mouth. I do not see this as a medium body but bold and daring. I believe most roast this to medium and I feel they are really wasting it's potential by doing so. This one is really best enjoyed dark. For some reason, it left me in mind of a Bourbon Santos I have on occasion. Very nice and enjoyable with a clean finish.
Ethiopia Yirgacheffe, Fair Trade, Organic:

Equally as good as any Ethiopian I've had, if not better. To add to the already outstanding flavor and feel, it is commendable to offer it as organic and most important, Fair Trade. It is always better to support rather than exploit the coffee growers/farmers around the world.
Somewhat sweet with a citrus hue. I can taste a tiny bit of licorice with a very small bit smokiness. It is spicy and warm. Rich and rewarding to the palette. A wonderful after dinner coffee or one on one conversational drink. I enjoyed this one very much.
I hardly see any reason how one could go wrong with Copper Door Coffee Roasters. An excellent website with an outstanding product. A must have!