Coffeesage.com Starbucks Gift Card Contest
CONGRATS to J. Charolette H. from Oklahoma!
It took some time to get a response from the winner. Thank you all for entering. There will be a new contest some time early this spring. I think we will be going with DVD's this time around. Hope to see you here! The next contest will have to do with newsletter/member sign-ups.
Note: Don't forget that I need an e-mail addy in order to notify you if you win
You MUST enter a valid e-mail address in order to be notified if you are the card winner. If not, the next best entry will be selected to win the gift card.
Starting October 4th (that's today!), coffeesage will be running a contest. The prize will be a $100 Starbucks gift card.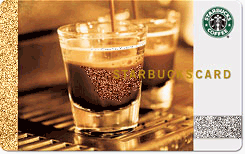 You must be at least 17 years of age and not be associated with coffeesage.com. Contest is limited to U.S. residents and Canadian residents. (sorry folks. These are the only currencies I can get)
Starbucks gift cards have no expiration dates or fees associated with the card.
Card will be sent within 2 weeks of ending contest date.
How to enter:
To enter, all you have to do is post a comment in this page and tell me about your most unusual (good or bad) experience in a Starbucks store. Be nice and do not use foul language or use any verbal violence.
Entries will be read by myself and two other friends and between the three of us, will determine who we feel had the most interesting experience.
All personal information will be used solely to communicate with the winner.
Contest runs from 10.04.06 – 12.31.06
This gives everyone a chance to enter who wants to enter.
Have fun with it and I look forward to reading about your Starbucks encounters.
Post your stories below in the comment section.