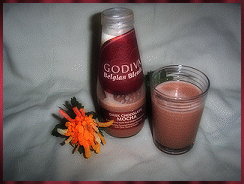 This summer, Coca-Cola teamed with the delicious Godiva chocolatier. The product is branded under the Godiva name, rightfully so. I purchased all three versions they have out at the moment (Dark Chocolate Mocha, Milk Chocolate Mocha and French Vanilla Latte) and have first tried the Dark Chocolate Mocha.
INFORMATION:
Size: 9.5-fl. oz. bottles. Price: $1.79 (price may vary)
Can be purchased in singles or four-packs.
NUTRITION FACTS & INGREDIENTS (for this product version)
Ingredients: Reduced fat milk, water, coffee, sugar, cocoa powder, natural flavors, sodium bicarbonate, cellulose gel, caffeine, carrageenan, mono and diglycerides, cellulose gum
Nutrition Facts: Serving size: 1 bottle; Amount per serving: Calories: 200; Total fat: 3.5g; Saturated fat: 2.5g; Cholesterol: 15mg; Sodium: 160mg; Total carbs: 37g; Fiber: 1g; Sugars: 35g; Protein: 6g; Vitamin A: 0%; Vitamin C: 0%; Calcium: 20%; Iron: 6%
I suppose you can have this hot or cold if you want to take the time to heat it. I would suspect that microwaving a bit may be best but I had mine cold.
At first taste, and I don't want this to sound negative, it reminded me of a chocolate Yahoo beverage. I know, that's not exactly what Godiva should taste like. But after a couple of sips, the rich chocolate taste that Godiva is famed for came through.
The texture is silky and probably a bit thinner than I would like but quite drinkable all the same.
Although there is coffee content in this beverage, I did not feel the caffeine. Given my caffeine addiction, I would imagine I wouldn't be able to sense the caffeine content though. No matter, the drink is good. If you are expecting a bold, dark chocolate taste however, you'll be disappointed. It does have a darker taste than the milk chocolate version, but it really does not impress me as being 'dark'.
The finish is creamy and satisfying. I feel that 9.5 fl. oz. is plenty enough to savor the Godiva chocolate flavor and it be enough. It could be an addiction and I think I will infact buy more after the three first bottles are gone.
I do recommend that you try the Godiva Belgian Blends