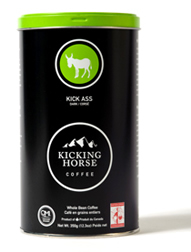 Coffee Provided by Kicking Horse Coffee , http://www.kickinghorsecoffee.com
Some of the most unique and high quality packaging I've seen. They actually seal their whole bean coffee in a can.
Getting past the packaging I brewed the "Kick Ass" (Dark) blend. It was full-bodied with just the slightest hint of smoke that most dark coffees are overwhelmed with. The flavor was pronounced, smooth mouth fill. If you like dark coffee but don't like the bitter over smoked aftertaste of a lot of coffees then this it a good one to try.
Notes from Kicking Horse Coffee
The name says it all: carpe diem, play to win, no regrets. Don't let this cute little donkey fool you-he plays for keeps. This take-no-prisoners roast is popular with athletes who'd rather enjoy a good cup of coffee than choke down an energy bar before a workout. A great mix of Indonesian and Central American beans that is guaranteed to kick some sense into you.