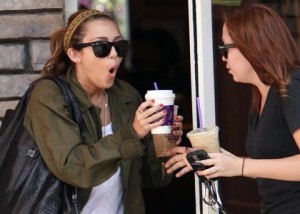 Everyone loves coffee.  Its our "go juice".  Celebrities are no different.  They use it to get through their busy schedules just like everyone else. 
Miley Cyrus was spotted in Tolucka Lake,Cali getting a cup of steaming hot coffee from the Coffee Bean & Tea Leaf on Monday afternoon. 
Cyrus recently released a new song, "Can't Be Tamed".