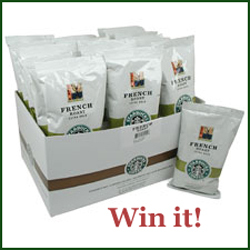 I am guessing that it will be French Roast since that is what they have pictured. Here is the ENTRY FORM
They say:
Enter to win a a case of 72 2.5 oz packages of Starbucks Coffee!! You don't want to miss this unheard of opportunity to get FREE Starbucks coffee!! Give it a try and tell your friends! Each convenient portion pack is pre-measured to brew one pot of coffee, and you can win 72, $151.80 worth of coffee!!
So, stop on by. You never know, you may win!