Weekly Mug Week 4
Here is week fours mug. I'm late getting it up. Sorry about that (like you care). it's one that I use for coffee and hot tea. I just love it. It's slender and easy to pick up and hold. It's collectors cup and the art if by Thomas Kinkade. I linked to his website there. No affiliation.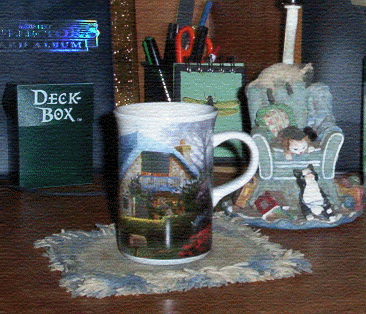 Yes, those are my cards in the back ground. I'm a 47 year old collector of anything Yu-gi-oh. I just can't help it. I think they should make a Yu-gi-oh movie using real people. Wouldn't that be neat?

I have something over 1200 cards. Some good one's too!