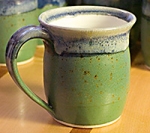 Once in a while I get the honorable job of reviewing something other than coffee or coffee makers. I do try to stay within the coffee/tea/chocolate related field though. Today I have the pleasure to review a fantastic website called Mug Revolution and handmade mugs.
These mugs are handmade in Bend, Oregon by a fantastic potter by the name of Owen Dearing. He has been hand crafting (wheel-thrown?) these works of beauty since 1990.
Here is a quote on the process the mug goes through before it is lovingly sent to you, the consumer:
Each coffee mug is wheel-thrown, and when the clay is leather hard, a hand-pulled handle is attached to the mug body. Once the mug is completely dry, it is fired in an electric kiln. After this first firing, called a bisque firing, the bottom of the mug is waxed and the coffee mug is glazed using up to four different complementary glazes. The coffee mug is then placed into a natural gas kiln, and fired to approximately 2,350ÌŠ F. This final firing takes 10 to 14 hours depending on weather conditions. After the firing, the kiln cools down for 36 hours before it can be opened
Owen graciously sent me two of his mugs to enjoy my coffee from. One blue and one green. I could not believe my eyes when I opened the box and saw them. They are just spectacular and obviously made to high quality standards.
These mugs are well balanced and sturdy and will have a long life resistant to chipping because of such a high firing temperature. Please note when ordering that each mug is different. No two will be exactly alike. I love that!
Each mug measures approximately 4-1/2″ high and 4-1/2″ wide, and holds approximately 16 ounces of liquid.
I suspect that my mugs and me will have a long, happy, caffeinated life together!
The website is nicely done and you'll find navigation to be a breeze. There is a place to contact them, leave feedback and read testimonials.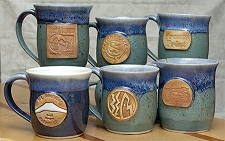 One thing I do not want to forget is, Mug Revolution does custom orders. Here is a photo of customized mugs. Aren't they just the neatest? The prices are very reasonable and he only charges a one time $30 fee for the stamp. I wish I could have a bunch made with coffee sage on them and offer them as contest prizes. That would be really nice.
Stop by and give Owen a visit and check out his handy work. I think you'll agree, the mugs are absolutely stunning! Click here –> Visit Mug Revolution
Thank you Owen for the mugs. I adore them!
Owen's mugs get a full three cups of coffee from me in ratings