Price range explained:
$= 4. – 6.
$$= 7. -12.
$$$=anything above 12.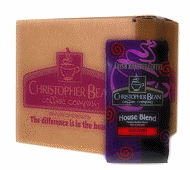 It is certainly my pleasure to review this marvelous company and the coffees that I've tried and favored. Christopher Bean sent me these roasts in the 12 ounce size bags to try out:
Blues Roast French Roast
Estate Java Government
House Blend
Jamaica Me Crazy (Wild and Exciting!)
Fudge Nut Brownie (under review and posting at a later date)
I am here to review their coffee but wanted to say a few words about their website as well. I love their site. It is very easy to navigate and you do not get lost trying to find anything in particular. The sidebar clearly guides you to any area on the site and the layout and color scheme is easy on the eyes and tastefully created. I also want to mention Christopher Bean's 'Bean Bucks' incentive. Each bag of Christopher Bean coffee has a 'Bean Buck' on the bottom of the bag. Each buck is worth…. you guessed it! A Buck. You can trade them in for more wonderful coffee or merchandise. So, get to drinking and saving those 'Bean Bucks'.
Christopher Bean offers you a 100% money back guarantee on all their coffees. A quote from the website:
We guarantee you will be 100% pleased with your Christopher Bean Coffee , or we will refund your money 100%.
Fact is, I have not tried the Fudge Brownie yet but will add my findings to this review a bit later.
Please carry onto the next page for review on the coffees…..
On with the coffee reviews. Let me say that this is one of the rare moments that I have not had a list of complaints to describe my experiences. Each one of Christopher Bean's coffees have been a delight to the my palette with few reservations. Other than the flavored coffees, it all came to me in bean form.
Jamaica Me Crazy
My Rating:


Coffee Name: Jamaica Me Crazy
Price Range: $$
Jamaica Me Crazy is a vivacious blend of vanilla, nuts, Kahlua, and caramel. There is nothing subtle about this mix and I really enjoyed it. Here is a quip from the website itself describing this coffee:
An Island Party for Your Taste Buds!
A Bold flavored coffee from an old island recipe of the Marley family. A secret blend of coffee beans flavored with Kahlua, Chocolate, Nut and Caramel.
Nose in the Bag: What a pleasure for the sniffing sense this one is. I thought I'd walked into a bakery or the like. Even though I find the nut scent (insert vanilla bean and hazelnut here) to pretty much be the main attraction, I can still feel the presence of Kahlua and caramel though not as much as I personally would like. (did not smell like pancakes and syrup. hmmm)
On the Palette: As I mentioned above, I wish I could have tasted more Kahlua slash caramel in the coffee. I'm not complaining mind you, but I think it would enhance this already terrific blend.
From beginning to end, Jamaica Me Crazy satisfied my sweet craving and need for an after dinner treat. A smooth yet snappy finish. I loved it!
——————————————————-
Blues Roast French Roast
my Rating:


Coffee Name: Blues Roast French Roast
Price Range: $$
A really wonderful coffee to drink morning or evening. Doesn't matter because if you're a serious coffee drinker, dark, medium, or light roast, your buzzing along in high gear most of the time any way.
Nose in Bag: The scent is so dark, it seems almost sinister. The way I see it, that darker the better, right? The smell is devilish and inviting. The grind is even better. It tends to linger on your nosebuds. Hmm… nosebuds, do we have those?
On The Palette: Intense with full body and aroma but still has the bite the dark roast should have. Slightly acidy. A nice brew.
——————————————————
Estate Java Government
My Rating


Coffee Name: Estate Java Government
Price Range: $$
Estate Java Government is sought after mostly because of stricter grading standards than those of the non-governmental estates.
Nose in the Bag: A wonderful earthy scent that tickles the senses with a slight spicy attraction.
On The Palette: You want to savor this as you would a fine wine. Swish it around in your mouth a bit and find a heavy body with low acidity. I detected an interesting spicy shade. I really enjoyed this one. I tried with a french press and drip. Loved both though I feel the press offered more body.
—————————————————-
House Blend
My Rating


Coffee Name: Christopher Bean House Blend
Price Range: $$
Do not let the average rating throw you. I am a bold and rich dark roast gal and though the Medium roast to light roasts may suit many others, I just tend to shy away.
Nose in the Bag: This one has all the fragrance of a bolder roast but without the oily bean I love so much. Tempting all the same though.
On The Palette: This medium roast presents itself with a spirted opening and a smooth finish. Though it is not my coffee of choice, it still has exceptional body with medium acidity. This one would go great with a rich dessert such as pecan pie or a dark chocolate cake.
—————————————————–
I have a review to add to this and will do so as soon as I have the information I need. Visit Christopher Bean Coffee Company and dive in to their wonderful selection of fine coffees. Kudos.