Tired of battery acid in your cup? Hate that burning fuzzy feeling you get in your throat after a cup of coffee? Can't put your coffee down no matter how bad it hurts? Then I have a solution for you!

Puroast Low Acid Coffee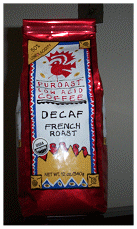 I've never had a problem with acid up until a year or so ago and even at that it is minimal. I have wished from time to time that I had a low-acid coffee for those times that I am bothered by it but never believed it possible that a coffee could taste good if they took something out. I was wrong!
Puroast was Johnny-on-the-spot getting my product to me that they so graciously let me try out and oddly enough I was having a bit of an issue with some Mexican food that day when I made my first pot. First, let me tell you that the aroma was just wonderful. I was shocked. Then, I poured that cup and sipped it, and I was amazed at how refreshing it tasted. Rich, robust, and down right full of flavor. And guess what? No acidity.
The coffee was clean and delightful. I ended up drinking the entire pot in about 2 hours. I just loved it.
You can get Puroast in all sorts of ways: decaf, regular, medium roast and house blends, flavored coffees in both caffeinated and decaf, espresso, and organic coffee. Whole bean or ground.
Comes in flavors too! ( I have not had the pleasure to try these but I'll bet they are good too )
Low Acid Chocolate Almond
Low Acid Hazelnut
Low Acid Irish Crème
Low Acid Mocha Java
Low Acid Vanilla Coffee
You may also elect to get low acide half-caffs too!
They are very friendly people with good customer relations. A fine coffee that offers those a solution who need one. You really can't go wrong and Puroast coffee was found to be #1 in taste with The Wall Street Journal and Newsweek taste trials.
Try them out and I know you'll be as happy about their coffees as I am.