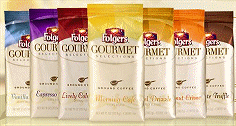 I've had the pleasure to taste and review Folgers new Gourmet Selections coffee line. There are seven new varieties to satisfy your cravings: Morning Café, Espresso Roast, Vanilla Biscotti, Lively Columbian, Caramel Drizzle, Hazelnut Creme, and last but certainly not least, Chocolate Truffle.
I began with Morning Café. I used a tablespoon per cup (12 cups), as with all the flavors, to brew. When I opened the vacuumed sealed bag I noticed a strong, fresh, ground bean aroma. I love that! I got the same scent as the coffee brewed (from a drip coffee maker).

Morning Café is a medium roast but rich and robust at the same time. At first sip, I felt refreshed and did not notice any bitter bite. It had a smooth finish with sense of being thirst quenching. As they state, it truly is a 'bright and delicate' tasting blend.
Espresso Roast: I tried Espresso Roast in the evening after dinner. The same wonderful fresh ground smell and brewing aroma as with the Morning Café was present but with a significant bolder body and taste. One cup left me wanting more. There was no bad aftertaste and the flavor is rich and inviting.
Vanilla Biscotti: I love vanilla and I love cookies (Biscotti) and Folgers has captured the Vanilla Biscotti flavor magnificently! Upon opening of the bag I suddenly smell the fresh ground coffee aroma but with a fragrant Vanilla Biscotti like undertone. Being a medium roast, the vanilla flavor was not overpowered to the point where you could not enjoy the cookie flavor. The coffee is great alone or with added cream and/or sweetener. For added benefit, snack on a Vanilla Biscotti while sipping your flavored coffee!
Lively Columbian: I drink coffee all through the day. I can think of a million excuses to drink coffee. One of my favorite roasts is Columbian. Folgers has managed a bold, rich, and flavorful compliment to the coffee. Wonderful fresh roast scent and taste. There is a distinct difference between Folgers 100% Columbian and their new Gourmet Selections Lively Columbian. It reminds me more of a after dinner coffee than anything else.
Caramel Drizzle: Have you ever tried Starbucks Caramel Macchiato? It sort of reminds me of that once I added a bit of cream and two teaspoons of sugar. It really is delightful. The flavor is robust and fresh with just enough caramel flavor to make it all worth while.
Hazelnut Creme: I've never been a fan of hazelnut flavored coffees. Something about it all seems so artificial tasting to me but I have to admit that Folgers did a find job on this one. It is light and flavorful and most genuine in the flavor's expression. It is very creamy in feel and has a nice aftertaste. The aroma is just awesome. Nice job!

Chocolate Truffle: My favorite flavored selection! Open the bag and smell a wonderful, authentic, chocolate scent. Then notice the fresh and bold scent of freshly ground coffee beans come bursting out of the bag. The coffee is robust and most flavorful and the chocolate is tantalizing and creamy. Recommendation: Use cream and not half and half for a very smooth and creamy texture. Not too much sugar if you want a dark chocolate effect. This selection is dreamy and probably one of the best chocolate flavored blends I've tasted.
Thank you Folgers!