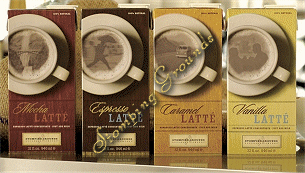 Stomping Grounds was nice enough to provide me with some of their product to taste and review and I would like to thank them. Today I'll be reviewing their pre-packaged, all natural, espresso latte concentrates in flavors vanilla and espresso.

Packaging: The concentrate comes dressed in a very attractive carton with a sealed pour spout on the top. I loved the coffee cup image on each package with a different illusionary image within the liquid. Visit their site to see what I am talking about. Very creative.
Preparation: Simple as pie. Just peel the seal off the pour spout and dispense about 1/3 of the latte concentrate into a cup or measuring cup and top the remaining 1/3 with milk. In my own recommendation, you could also use half and half if you dare! Heat in the microwave or on the stove top (my preferred method). Or enjoy over ice for a nice iced latte beverage. Note: beverage will look like regular coffee until you add milk.
My Impression
Stomping Grounds Espresso Latte: I've tried this both hot and poured over ice. It is delicious either way. I am really impressed with the genuine espresso flavor. I found the drink to be very rich tasting with a wonderful creamy texture. As a matter of fact, I found it to be creamier than I would have had I ground my beans and made it using an espresso machine. I did 'steam' my milk a bit longer than you may wish to but if you can do this without scorching it on the stove top, I do recommend it. It will provide an even creamier feel than a microwave will. Don't misunderstand though. Using a microwave provides a taste just as great as the stove top does. There is just a slight difference in texture.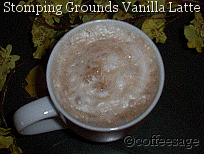 Stomping Grounds Vanilla Latte: Oh wow! This one is great. Stomping Grounds has managed to combine just the right amount of natural vanilla flavor with the espresso blend. Not too harsh and not too faint. A perfect latte to please the palate. I did not find the vanilla to taste artificial either as I have with instant latte mixes found in the grocery store. Awesome job you've done Stomping Grounds!
I'd like to say that with both the Vanilla Latte and the Espresso Latte, you may wish to add a bit of sugar/sweetener but I have discovered it to be quite pleasing without any sweetener added. Either way, I highly recommend you try any flavor of Stomping Grounds Latte line. It is all natural and most delicious.
My thanks once again to Stomping Grounds Beverage Company for the opportunity to try their product. It have been a pleasure.