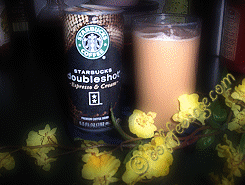 Make sure the The 6.5 ounce can is chilled before opening and watch out when you shake it. Open the tab away from you. It tends to spray a bit.
Starbucks DoubleShot is a tasty way to start the day, enjoy a break at work, or just pour over ice while relaxing. It is not so much that I am a large Starbucks fan but I do enjoy many of their coffees/drinks. This is one of them. It provides a great alternative to actually visiting the local Starbucks barista or bariste for your espresso shots and cream.
Though I don't feel the drink has the same vividness as the 'fresh' shot, it certainly does suffice none the less. The espresso is potent and the blend is creamy and silky smooth. Yes, the coffee is intense but please, it is a doubleshot of the world famous Starbucks Espresso!
I do recommend Starbucks DoubleShot if you do not have immediate access to a Starbucks store. And feel you just can't wait until you do. The real deal is better but you will be happy with DoubleShot as well.
Ingredients: Brewed espresso coffee (water, coffee), reduced fat milk, suagr, cream, non fat milk, caramel color, ascorbic acid
Nutrition Facts: Serving size: 1 can; Amount per serving: Calories: 140; Fat: 6g; Saturated fat: 3.5g; Cholesterol: 20mg; Sodium: 70mg; Total carbs: 18g; Sugars: 17g; Protein: 4g; Calcium: 15%