That's "Coffee Cat" not Copy Cat
Here is one of my child cats with a coffee mug. No, he doesn't drink coffee but he does enjoy milk from a mug on occasion. 😉 He's a character, that for sure.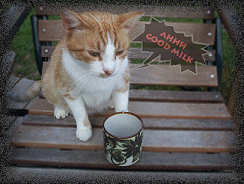 One day he was laying by a milk mug and had his paw through the handle. It was cute and I wish I'd had the camera that day. Alas, I missed that shot.

---