Holy crap! I was browsing recalls and found one of my coffee makers on it listed as a fire hazard.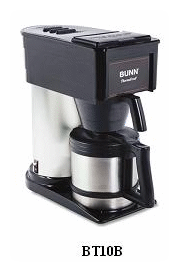 Check this link to see if one of your pots is listed. The coffee maker shown here is my model that is recalled.
Bunn-O-Matic Corp. Expands Recall of Home Coffeemakers Due to Burn and Fire Hazards
Info:
Name of Product: Bunn® home coffeemakers
(Note: This recall is an expansion of an earlier recall announced in June 2005.)
Units: About 561,000
Manufacturer: Bunn-O-Matic Corp., of Springfield, Ill.
Hazard: The coffeemaker's plastic pour-in bowl and lid can melt or ignite due to an electrical failure, posing burn and fire hazards to consumers