Zabar's resides in New York. Here is a quote from their site and please take time to read their story. It is most interesting. The Zabar's Story
Zabar's is open 365 days a year and there is always a Zabar in the store. Today the store is over 20,000 square feet (almost a city block long). We have over 250 employees. We sell over 8,000 lbs of coffee a week and over 35,000 customers a week visit our store.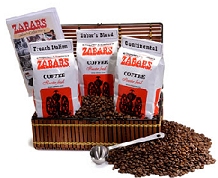 Zabar's is not exactly a coffee shop but they should be. I've searched through their site and found a treasure chest of wonderful and delightful goodies ranging anywhere from coffee to their signature Fresh Baked Rugelach. You will have to check out their gift baskets while visiting and do not forget the coffee! Speaking of…..
I honestly did not figure on their coffee impressing me like it has. I mean, with all they have, I would have thought the coffee would take a back seat to everything else. Not a chance. I keep saying that it can not get any better but I just keep being proved wrong.
With the coffees that were sent to me to try out and review, they sent a really nifty logo canvas tote and a logo mug which I've used many times now. I love them! Thank you for sending them.
There were three roasts sent. Kona Style, Zabar's Blend, and French Italian.
Both the Kona Style and Zabar's Special Blend are light roast coffees. Now, I've mentioned before that I am not a light or medium roast type of gal but finally, the time has come for me to sing my praises over a wonderful light roast coffee. Both of these are just fantastic.
I want to speak about these two together since I only found one minor difference in the two as far as flavor is concerned.
The Kona Style is a bit milder than Zabar's Blend and has a light sweetness that I liked very much. The finish was very clean and satisfying. It is sold in a full 16 ounce bag unlike others that sell it as 12 ounce. A great buy.
I rate it:

Zabar's Blend is full bodied with an inviting sharpness and snap to it. The Bouquet is aromatic and sensational. A very nice 'all around' coffee great for any occasion at any time of day. Any Barista would be pleased to serve this coffee to their valued customers.
This is rated (my first outstanding rating):

Zabar's French Italian Roast:
I love this roast of theirs. It is carmelly with a hint of chocolate. It is very complex yet soft offering a consistent mouthfeel. It brews nicely and leaves you wanting more.
I rate it:

I was very happy with all three of the coffees Zabar's sent over. I would be happy to buy from them time and again. They certainly come highly recommended from me. Give their site a look and order their wonderful coffees, teas, or any other goods they offer. I am confident all their offerings are of outstanding quality.