The fall season is closing in on us and so are the holidays. Don't you wish you could make all those seasonal coffee drinks you love, all by yourself?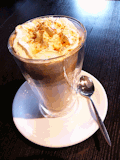 I love ginger bread, gingerbread syrup, and all the yummy things you can make with it. Obviously, I generally intend it for my coffee drinks. Here is a simple recipe you can follow to make a tasty gingerbread syrup yourself saving you both time to go buy it and of course, money. Enjoy!
Gingerbread Syrup
1 1/2 cups water
1 cup fine granulated sugar (bakers sugar is great for this)
2 teaspoons ground ginger
1/4 teaspoon ground cinnamon
1/4 teaspoon vanilla extract
* Combine the water, sugar, cinnamon, ginger, and vanilla in a small to medium saucepan. Medium is probably better since the syrup could boil over the top.
* Bring mixture to a boil then reduce heat and simmer uncovered for 20 minutes. When done, pour into a melt-proof container and let cool. It will thicken a bit more once cooled.
Use in your favorite gingerbread recipe or coffee drink. See Starbucks style Gingerbread Latte recipe to follow.
If you do not want to make it yourself, here is a great syrup that will certainly do the trick.

Or for those who love sugar-free syrups, try:
image credit: © What I Love..