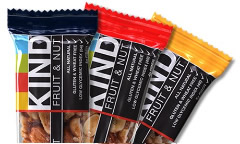 KIND Healthy Snacks (KIND) introduces two new flavors at Starbucks, Apple Cinnamon Nut + Fiber and Blueberry Vanilla & Cashew.
KIND sent me a few of these to try, after reading the label and seeing how healthy they were, I was skeptical.  But after I had one, I was amazed at how good they were.
These healthy bars are all natural, low in sodium, gluten free, wheat free, dairy free and non GMO.  (almost too healthy)
KIND says be kind to your body, which is great, but the taste is good enough that I'd eat it if it wasn't healthy.  When you open the package you can actually see what type of fruit and nuts you are about to eat.
These two new flavors are only available at Starbucks, but  you can check out some of their other offerings online @ http://www.kindsnacks.com