Isn't this just yummy? Starbucks Ice Cream Classic Coffee Flavor.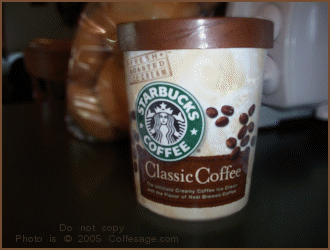 I brought this home, opened it and stuck my spoon inside. I scooped myself up a large mound and stuck it in my mouth. I thought I'd died and went to heaven. I then realized I have possibly found the world's most wonderful coffee flavored ice cream, with a designer name no less!

Honestly, the texture is super silky and smooth. The coffee taste is familiar. It goes down with a caressing blanket of coolness and invites me to have more.

On 06.29.05at a Starbucks near you, a free serving of Starbucks Ice Cream will be yours for the taking. Stop by and try it out!

Available Starbucks Ice Cream flavors:

Classic Coffee
Mudd Pie
Java Chip
low fat Latte
Coffee Almond Fudge
Coffee Fudge Brownie
Caramel Cappuccino Swirl

Man oh man….. it IS so darn good!

---