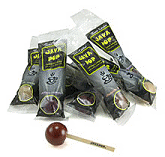 Nothing could be finer than a Javapop first thing after a nap. I could never give up my coffee or espresso first thing in the morning but these Javapops are just the thing when you hit a low and need a quick boost or just having a sweet tooth craving.
Javapops are available in 5 flavors for adults: French Vanilla, Chocolate Almond, Irish Cream, Cappuccino, and Chocolate Raspberry. For adults? Yes, they are caffeinated and one must wonder if they should be giving their kiddo's adult candy. Maybe a teen but no toddlers should be licking on these.
The pops are large sized and contain 60mg of caffeine. Being sold in 10 packs ensures you never run out when you need it most. There are two of each flavor in each 10 pack. They are mounted on a 'wooden' coffee stir stick. How neat, huh?
So, are they good? Yes, they are quite tastey. Do they really pep you up? Probably so. It is just hard for a hard core coffee addict such as myself to notice a difference. It is worth a try though! I rate is large in the yum department.
Ingredients
Sugar, corn syrup, natural coffee flavor, artificial flavors, artificial color
Amazon did have these but are currently unavailable, but I think you can get them at Thinkgeek.com