Note: I've activated commenting and am trying out the plug-in Spam Karma2 at the advice of Colin Thanks Colin!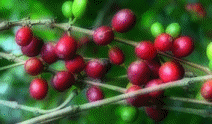 Did you know that you can grow your own coffee beans? Well, you can! Be advised that it takes four '4' years before you'll be able to harvest your first, very own, beans or cherries if you will. On the plus side of things, during that four years and there on, you will enjoy a very pretty evergreen type shrub that sports a very pretty white flowers that have a pleasant frangrance.
Your first pickins' won't be much as the tree does not bear a full yeild until it's 6th year there or about. Unfortunately, the tree will only produce it's full yeild for about ten '10' years but can actually live for around sixty '60' years. So, long after you enjoy it's fruits or berries, you will enjoy it's beauty.

This would be great for those of you concerned about processing and any pesticides that may or may not be involved in commercial production of your favorite coffee. You'll know exactly how it is grown, maintained, harvested, ground, and served. Awesome!
These trees are not difficult to grow and can be done as a potted tree. If possible, the tree should always be outdoors in the summertime. They thrive in irdirect or filtered sunlight and require a lot of water. Either by doing it yourself or in areas where there is heavy rainfall, yet plenty of sunlight. You should use a good potting soil and keep the soil moist but not soggy. You will have to have a pot that drains well. The best growing conditions are in a temperature range of 65 degrees Fahrenheit to 75 degrees Fahrenheit.
Tree/shrubs can, if not limited, will grow to a height of between 16 and 40 feet, however, you really should keep it pruned to about 6 feet. It will be easier to maintain and will produce the largest and healthiest yeild.
You will not have to fertilize, but for best results and maximum yield, they should be fed every 2 weeks from March to October, and then monthly from November through February.
You can find seeds or small plants from exoctic plant stores online or maybe even be able to obtain information for aquiring them from your local greenhouse.
Note: Once you are ready to enjoy your first cup of coffee from the berries you grew yourself, you MUST roast them. This can be done using your own kitchen oven. I'll try to get something up soon that will explain the process for this.
Hope you enjoyed this article!